Social Media und Social Network Analysis
Forschungsschwerpunkte
Die über Social Media generierte, verteilte und perzipierte Informationsmenge wächst rasant an. Für Unternehmen stellt sich die Frage nach Relevanz und Orientierung: Lassen sich mit Social Media Wertschöpfungspotenziale ausschöpfen? Wie lässt sich mit Social Media ein modernes Innovationsmanagement aufsetzen? Kann ich Kunden besser verstehen? Das Seminar für Wirtschaftsinformatik und Informationsmanagement beschäftigt sich in mehreren Forschungsprojekten mit der Analyse sozialer Medien. Hierzu nehmen wir bewusst die Netzwerk-Perspektive ein, d.h. Netzwerke von Akteuren werden strukturadäquat mit Netzwerk-analytischen Methoden untersucht. Abbildung 1 illustriert beispielhaft für diesen Themenkomplex ein statisches Netzwerk von Forschern, die in der Fachzeitschrift "Electronic Markets" zusammen publiziert haben. Darüber hinaus verfolgen wir insbesondere einen dynamischen Ansatz, d.h. wir untersuchen, wie sich Netzwerke im Zeitablauf verändern. Insbesondere diese dynamische Netzwerkanalyse wurde bisher in der Forschung vernachlässigt.
Analyse sozialer Medien
Zu unseren Leitthemen im Zuge der Analyse sozialer Medien zählen:
1. Kommunikationsstrukturen und Performanz
Unter dem Leitthema "Kommunikationsstrukturen und Performanz" ziehen die Mitarbeiter des Seminars für Wirtschaftsinformatik und Informationsmanagement die Methoden und Techniken der Analyse sozialer Netzwerke (engl. Social Network Analysis, SNA) zur Lösung betriebswirtschaftlicher Fragestellungen heran. Hauptanliegen ist es dabei, Managern bessere Einblicke in die realen Kooperationsstrukturen zwischen Akteuren (Individuen, Arbeitsgruppenund Organisationen) zu gewähren und so Entscheidungsträgern zu helfen, die wirtschaftliche Leistungsfähigkeit ihrer Unternehmen zu seteigern.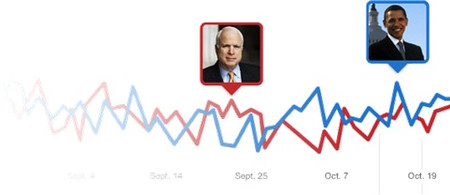 Abbildung 2: Vorhersage für Präsidentschaftswahlen auf Grundlage unserer Algorithmen und Analysen
Abbildung 3: Vorhersage für Oscar-Gewinner auf Grundlage unserer Algorithmen und Analysen
2. Predictive Value of User Generated Content
Unter dem zweiten Leitthema "Predictive Value of User Generated Content" werden soziale Medien zur Vorhersage zukünftiger Ereignisse herangezogen. Etwa konnten die Mitarbeiter des Seminars den Ausgang der US-Präsidentschaftswahlen 2008 ebenso voraussagen wie einen Großteil der Oscar-Gewinner des Jahres 2010.
Weitere Forschungsschwerpunkte des Themenfeldes "Social Media" am Seminar sind:
Textmining und –analyse (z. B. von Tweets)
Beeinflussung von Meinungen und Entscheidungen in und durch Social Media (z.B. für Online-Reisebewertungsplattformen via Tripadvisor)
Adoption neuer Medienformen durch die Konsumenten (z. B. von Social Media Plattformen wie LastFm oder von kundenindividuellen Tageszeitungen)
Evolution von Netzwerken, Interaktionsmuster und Hierarchie in Massively Multiplayer Online Games
Soziale Netzwerke und Erfolg der in sie eingebetteten Akteure
Automatische Erstellung von Brand Concept Maps auf Basis der Nutzerkommentare im Internet
Die große praktische Relevanz der Forschung zu Social Media spiegelt sich auch in der Zusammenarbeit mit namhaften Unternehmen wieder.
Projekte in diesem Forschungsgebiet
Kontakt
Weitere Ansprechpartner:
Stefan Nann
Hon.-Prof. Dr. Peter Gloor