Media Mass Customization
Research Interests
In the research area Media Mass Customization, the seminar explores methods and develops information systems that help in the compilation and distribution of individualized information. In particular, the automated creation of layouts for ready-to-print documents is of paramount importance. On this basis, Individualized catalogs and newspapers can be generated. In doing so, the underlying processes are fully automatic and cost-effective for a large number of users.
The Challenges
1. Automatic document layout
In the context of individualized communication with printed documents, many different documents must be created with contents tailored to the respective recipient. The customary manual creation of document layouts is not suitable for individualized communication because of the high costs and the time required. The documents must be mapped within a few seconds and at negligible costs so that the scenario of individualized communication with printed documents is economically feasible.
2. Consideration of quality criteria
To be able to use printed documents as an effective communication medium, they must be visually appealing and have a minimum of aesthetics. The fundamental great subjectivity of aesthetics makes their quantification a non-trivial problem.
Our solutions: Automated Layout Software (ALS)
Technology
In the context of intensive and long-term research, on the one hand, mechanisms were identified and developed, based on which documents can be created fully automated without the use of templates. On the other hand, metrics for the quantification of aesthetics have been identified, consolidated and developed.
These theoretical foundations were presented in the form of an integrated process in a software solution, which now produces documents that meet professional, aesthetic requirements within a few seconds.


Application scenarios
Individualized catalog: Based on different data, such as a customer's order history, product suggestions are already made online with Recommender systems. With the help of the Automated Layout Software, these product proposals can be converted into a ready-to-print document. Thus, for example, shopping cart drop-outs based on the shopping cart can be addressed within 24 hours with a customized catalog, thus revitalizing the buying interest (retargeting).
Short-term advertising for the sale of warehouse goods: The manual production of a catalog is usually very time-intensive due to the coordination and coordination effort with designers. If you want to send a catalog (digital or print) within a few hours, the document creation must be fully automatic.
Further application scenarios:
Package insert (cross-, up-selling)
Individualized user manuel
Daily online catalog
semi-automation (finished InDesign document for fine adjustment by designer), cf. myPaper
Any formats: catalogs, brochures, package inserts, product flyers, operating instructions, product comparisons, etc.
Media Mass Customization in practice: AutLay.com
In the research project "AutLay" (Automated Layout), the knowledge gained in research is converted into a market-ready product for fully automated document production. Based on this innovative technology, any content can be fully automated into a ready-to-print document. This allows cross-channel, individualized communication - also in print.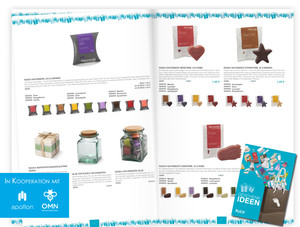 Based on this technology, companies are leveraging all the advantages they already have in the digital environment, now also in the print environment: Cross- and Up-Selling as well as Real-Time Marketing & Co.
Take a look at the results of fully automatic document creation!
Further project examples
Within the framework of research projects, we implement individual components of the Media Mass Customization. We show the feasibility and the benefit of individualized information provision.
News2Paper.com
In the projekt www.news2paper.com we are working on the problem of automated creation of newspaper layouts. Its own, powerful algorithms enable very fast and fully automated information to be transferred into a newspaper layout and output as a digital-printable PDF document.
MyPaper
In order to assist those, who don't have an affinity to design, with creating appealing print media, e.g. club newspapers, the seminar developed this interactive, automated desktop publishing tools. These should create initial layout suggestions, which can then be adapted by the user. The software supports the user with further layout advice.




Innovation
Cooperation partners, who would like to use the seminar solutions for their company, feel free to contact the seminar. Welcome are also students, who want to write their master thesis in this area.
You can get a first impression of our research work on the websites below, where you can try out our technologies.
Publications
Schölgens, D., Müller, S., Bauer, C., Tilly, R., and Schoder, D. 2016. Aesthetic Measures for Document Layouts: Operationalization and Analysis in the Context of Marketing Brochures. In Proceedings of the 2016 ACM Symposium on Document Engineering. DocEng '16. ACM, New York, NY, USA, 21–30.
Schoder, D. (2011): Informationsmanagement 2.0 – Nur der Wandel ist stetig. In: Wirtschaftsinformatik&Management (02), 54-58.
Schoder, D. (2011): Fernsehmärkte im Umbruch - 4 Thesen. In: Medienwirtschaft (4), 39-41.
Putzke, J.; Schoder, D.; Fischbach, K. (2010): Adoption of Mass-Customized Newspapers: An Augmented Technology Acceptance Perspective. In: Journal of Media Economics 23(3), 143-164.
Kaplan, A.M.; Schoder, D.; Haenlein, M. (2007): Factors Influencing the Adoption of Mass Customization: The Impact of Base Category Consumption Frequency and Need Satisfaction, in: Journal of Product Innovation Management, 24(2), 101-116.


Prizes & Funds
Contact
Dr. David Schölgens
Sven Müller